New for 2017, Lyme Regis Sea Angling Club are organising six Junior Boat Fishing trips.
These trips will be targeting different species and tackle, bait and tuition will be provided.
Dates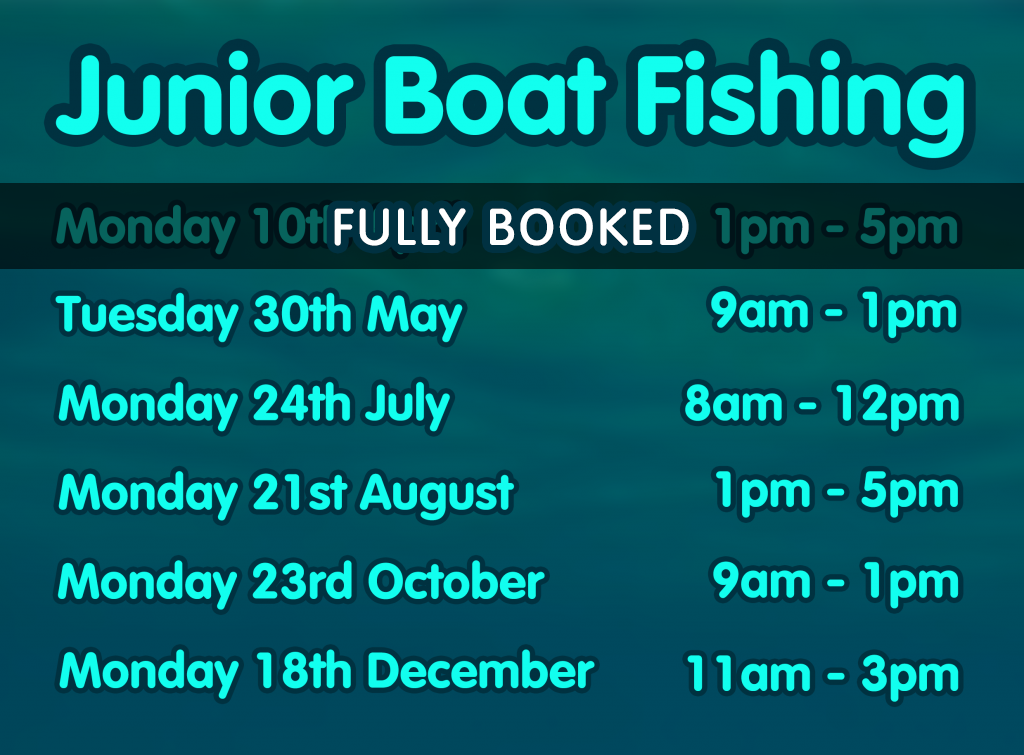 About the trips…
Age Limits: The minimum age is 9 years old and the maximum age is 16.
Competency Level: The junior must be able to stand and hold a rod. The trips are for juniors only.
Duration and Cost: Each trip will last for 4 hours and the cost per junior will be £20 per trip.
Species and Techniques: These trips are lesson trips (not competitions) and we will be targeting species over the year including plaice, wrasse, pollack, bream and whiting. The juniors will be taught about knots, rigs, terminal tackle, bait, fish and techniques.
Number of Places: The trips will run with a minimum of 5 and a maximum of 9 juniors aboard.
Competitions: If you have ticked the 'Photo' box on the booking/consent form, the club fish recorder will automatically enter the juniors in for any awards such as the Wyvern and Angling Trust Awards.
About the team…
Skipper: The skipper will be Lewis Hodder from Lyme Bay Charters (07519 160020)
Lead Tutor: The lead tutor and trip organiser will be LRSAC member Gavin Tyte (01460 221566). Please contact Gavin if you require more information.
DBS Checks: All accompanying adults have an Enhanced Disclosure (DBS) through the club.
Assistant Tutor: If more than six juniors are booked then we will always try and recruit a third adult volunteer – an assistant tutor – who will also be a club member and be DBS checked.
The club has a Safeguarding Policy which can be viewed here: Safeguarding Policy (PDF)
The club has undertaken a Risk Assessment for the trips with can be viewed here: Risk Assessment (PDF)
How to book…
Booking is essential to avoid disappointment.
Membership: All juniors must be members of Lyme Regis Sea Angling Club. Membership costs £3. Become a member now! The easiest way is to pop into The Tackle Box in Lyme Regis and complete a form.
Places: Places will be booked on a first come, first served basis. You can book in advance for any or all of the six trips.
Booking Form: A place will only be booked when accompanied with a completed booking (and parental consent) form.
Deposit: A deposit of £5 per trip (cash) must be included with each booking. The balance must be paid prior to departure. Deposits will be refunded if a trip is cancelled or may be carried over to the next trip (subject to availability).
Booking forms must be dropped in or sent, along with the deposit to: Junior Boat Fishing, The Tackle Box, 20 Marine Parade, Lyme Regis DT7 3JF
Note: Booking forms can NOT be submitted electronically as a) They need to be signed and b) A deposit is required.
Getting ready for your trip…
Confirmation: Trips are subject to weather. Gavin Tyte will contact the parent/guardian/carer listed on the form the day or evening before the trip to confirm.
The Boat: Trips will go from the Victoria Pier and be with Lyme Bay Charters on either Alice Rose or Pegasus skippered by Lewis Hodder. The boat is equipped with full safety equipment, a warm cabin and a toilet.
Departure time: Please turn up no later than 30 minutes before departure.
Safety: A full safety briefing will be given by the skipper (Lewis Hodder) aboard the boat prior to departure.
Waterproofs: Please bring waterproofs! We recommend waterproof trousers, jacket and wellies. Fishing boats often get wet and messy!
Warm Layers: Wear warm layers. You can always take layers off. Most anglers also bring a hat, gloves and sunglasses.
Sunblock: Please wear sunblock to protect against wind and sunburn – yes, even in winter!
Sea Sickness: It is a good idea to bring a snack to eat and a bottle of water. It might be a good idea to avoid sugary drinks and sweets if you are unsure if you get seasick! It is at the parent/guardian/carer's discretion as to whether a seasickness tablet is taken prior to departure. We will not administer sea sickness tablets on the boat!
Tackle: Please do not bring your own tackle or bait for these trips. All tackle and bait will be provided.