For the 2019 season, LRSAC Members are affiliate social members of Lyme Regis Sailing Club. This means you can use the club bar when it is open.
The Galley is open every Friday night from 6pm, Wednesday nights (when there is sailing club racing) and almost every Sunday throughout the year.
http://www.lymeregissailingclub.co.uk/opening-times-galley/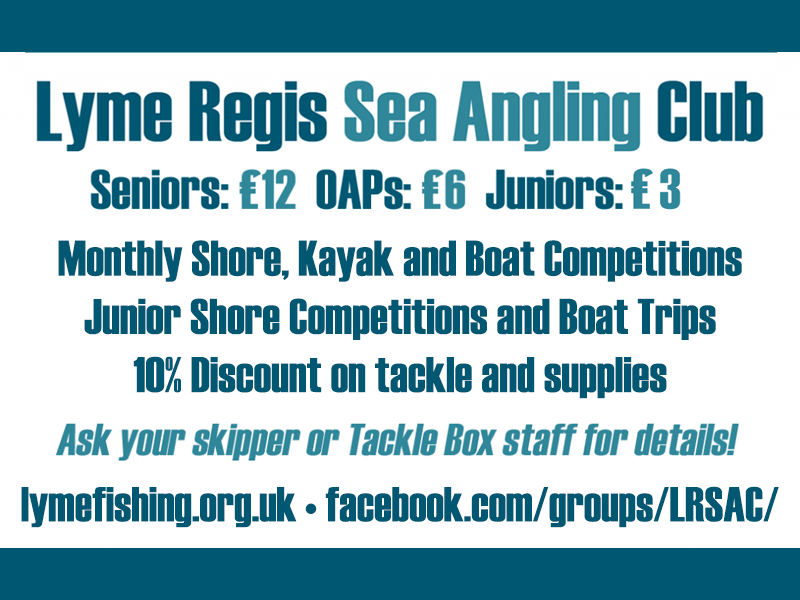 When can I join?
You can join the club at any time during the year.
How much does it cost?
Annual membership (from 1st January) is £12 for adults, £6 for OAPs and Juniors are £3
How do I join or renew my membership?
There are three ways of joining or renewing your membership!
Pop into The Tackle Box shop in Marine Parade, Lyme Regis and complete a form with cash or cheque payment.
Complete your form and send a cheque made out to the Lyme Regis Sea Angling Club for the required amount(s) to: Mike Hansell, LRSAC Treasurer, Shapwick Court, The Rousdon Estate, Lyme Regis DT7 3XU.
Pay by BACS: Lyme Regis Sea Angling Club : Account: 00014995 : Sort Code 30-99-56 and email a completed form (or email your full details) to Mike Hansell.